January 29th, 2020
Feeling sentimental as sweet Aries, our first SD long-term foster, leaves us today to go to FETCH at the U of M for the spring to live with pre-vet students. She will then go in for final training in the summer before hopefully being paired with her forever person.
I am SO grateful we've gotten involved. I have learned so much and gained more from Aries than I feel I've given her; we have loved her dearly. God blessed us with her.

Public school teaching is kind of a stressful job, and my first 1.5 years I really struggled with anxiety. I still have a hard time in the dark winter months. Having Aries, though, has melted away so much of my anxiety. It's not gone, but she does pretty good therapy.

She forced me to go on walks every day, which are healthy in many ways, including for my poor flat feet that need stretching after standing all day. She helped me focus on the present and the now, not on the what-ifs from my day. She accompanied me everywhere except for school for her training, being a comforting & grounding presence that made people smile wherever we went. She was great at snuggling, a calming activity.

We even got a comment on Monday from a man when we were at Costco, "She doesn't even need a leash hardly, does she?" I'll take that as a big compliment.
So though there are tears on this turn-in day, they are happy/sad tears, but mostly happy. Happy that we made an impact for someone we hope to be friends with someday... Happy we could love her while we had her... Grateful for all she brought to us for her time... Grateful for her wiggle-butt and many kisses and kitty-rubbing greetings... Grateful for all of the wonderful memories... And blessed to give to others. We can't wait to do it all again.

So "see you later," girlie! Go be great!!

And now... We eagerly anticipate graduation day.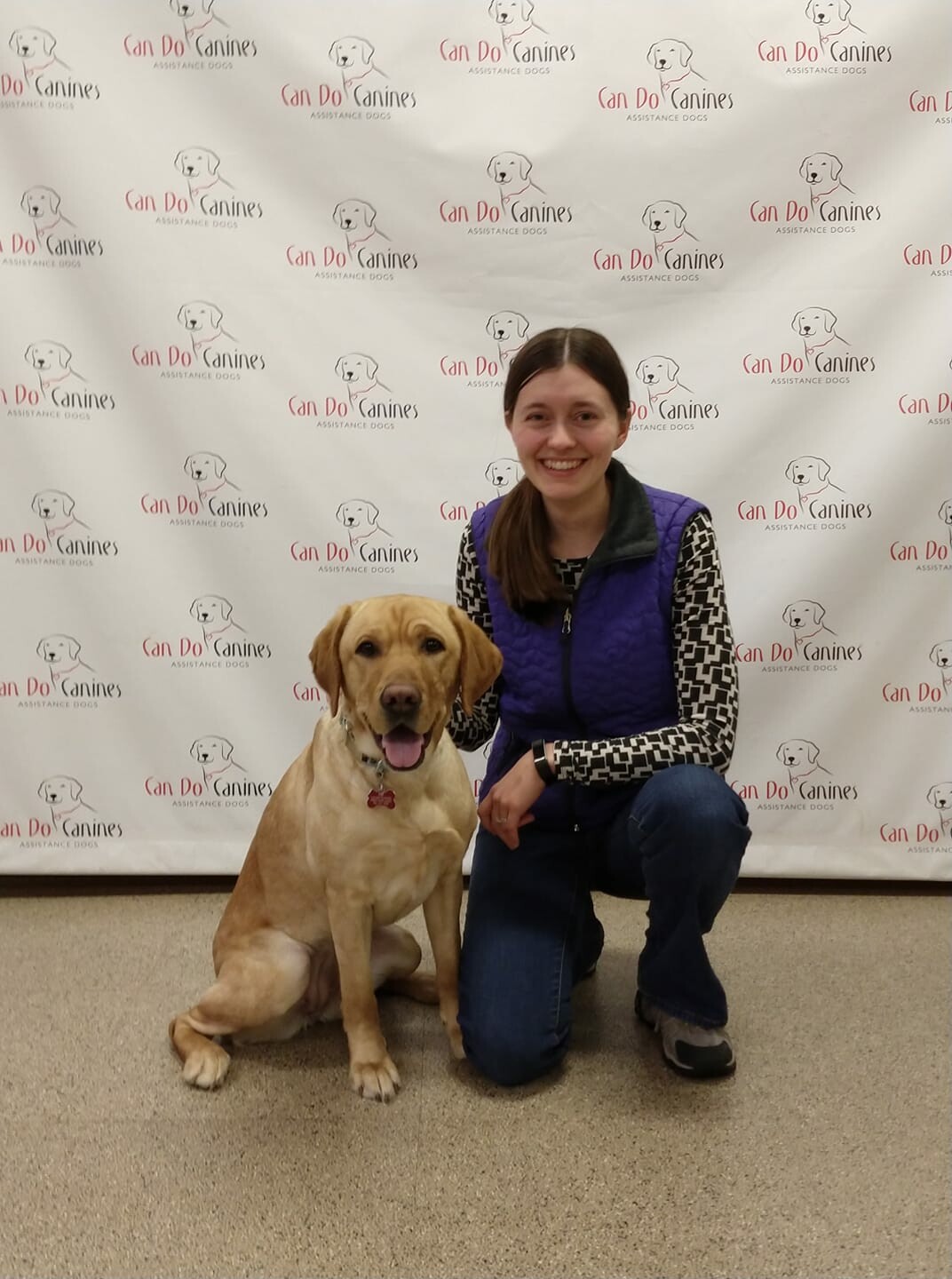 December 6th, 2020
Career Changed. It is not news that we ever want to hear when it comes to these amazing dogs that we bring into our home to love, train, raise, and give our hearts to. The path of greatness to be a superhero in a red cape

is not an easy one, and even circumstances unrelated to training can remove the dog from training. It is not a path that is destined for every dog in the program. Sometimes things just don't work out, and God has a different plan for these special dogs.
Aries, our first long-term foster, was career changed this week due to medical reasons and we were asked to adopt her.
She is already loving her new life as she settles back in with us for her first night as a pet! She will be a great big sister to fosters we continue to help raise. We also hope to pursue therapy dog work with her, as she LOVES to work and has the drive for a job, even if it's not serving a client as we'd hoped. It is a bittersweet feeling knowing how much we were looking forward to the impact she potentially would make for a client someday, but I am overjoyed to see her so happy and healthy, and super grateful we get to love her for the rest of her life as her family.


Best surprise Christmas present EVER!

#CareerChanged
#shesoursnow