I LOVE how much energy I have now.
Ever since taking better care of my gut and digestive system and providing my body key nutrients it was lacking, I have felt so much better. I'm not dragging during the day anymore!
1) Life 9 Probiotic
A healthy gut is SO important for overall health. Foods like sauerkraut and fermented foods offer amazing gut support that are filled with probiotics and enzymes, but are you eating those every day?

😬

Yeah, we aren't either. Many people think that yogurt is a sufficient source of probiotics, but unless you have a source for raw yogurt, the sugar and pasteurization process (high heat) kills most of the probiotic content in yogurt, so that's not the best option (not to mention that dairy can be a problem for many people).
So what's so great about Life 9?
These probiotics help by introducing live bacteria and yeast to balance and create healthy gut flora so your gut can do all the amazing things it is supposed to do. It combines 17 billion live cultures from nine beneficial bacteria strains. It helps promote healthy digestion, supports gut health, and helps maintain normal intestinal function for the overall support of a healthy immune system. Life 9 is designed with targeted-release capsules, a dual-sorbent desiccant, and a special bottle and cap to ensure that your Life 9 stays fresh and effective. Each bottle contains 30 capsules, so be sure you don't have any left at the end of the month!
USAGE:

Take 1 capsule every night following a meal or as needed.

REFRIGERATE AFTER OPENING.
Pro tip: If you can't remember to take your probiotics after a meal or before bedtime, put a post-it note on the fridge or on your nightstand as a reminder.
2) Essentialzymes
Essentialzyme helps CHOMP everything up. Second to NingXia Red, this is my favorite supplement of all time and My husband, Gabe, doesn't go a day without them. Enzymes are proteins that control the speed of chemical reactions in your body. Without enzymes, you wouldn't be able to breathe, swallow, drink, eat, or digest your food. Therefore, it is important to make sure you are getting the proper enzymes to break down food and improve digestion in the cleansing process.
Are you eating a lot of Kefir, Bananas, Soy Sauce, Kombucha, Pineapples, Avocados, Bee Pollen, Papayas, Sauerkraut, Miso, Kiwi, and Tempeh? Yeah... me either, not enough regularly anyway. Then we need to be taking Essentialzyme!

Essentialzyme™ is a bilayer, peppermint-coated caplet that combines pure essential oils, herbs, and plant-derived enzymes formulated to improve digestive health, enzyme activity, and pancreatic function while reducing pancreatic stress.
USAGE: Essentialzyme is a product that can be taken long-term.
Take 1 dual time-release caplet 1 hour before your largest meal of the day for best results.

NOTICE: If you are pregnant, nursing, taking medication, or have a medical condition, consult a health professional prior to use. Do not give this product to children under 6 years of age except under the supervision of a health professional. If discomfort persists, discontinue use of this product and consult a health professional.
3) Super B -- vitamin B complex, more bio-available than ANY B supplement I've tried, so definitely high quality and worth it! Hit reply to my email and type "Super B" for more info about it. :)
4) Ningxia Red, my super high nutrient, antioxidant drink.
I only drink 1-2oz per day and feel amazing results, but I personally know people who have also lost LOTS of weight (for example) by drinking 6oz spread out (2oz 3x per day). This stuff is like liquid gold to me.
Are you looking for another way to eat fruits and vegetables? Or a new way for your kids to enjoy fruits and vegetables? Look no further! 👇
We know it's hard to eat healthy every day.
We know what it's like to feel overwhelmed with meal planning and prepping.
And ain't nobody got time to eat 100 oranges, 73 strawberries, 59 broccoli florets, and 814 blueberries on a daily basis.

Life is too short to try and and consume all of those antioxidants in 24 hours.
So let 1 ounce of Ningxia Red pack those nutrients into your day! 💪🍊🍎🥦🥕💪

All you need to do is simple.
1) Place the bottle or packets in your fridge. (Not required, but more enjoyable that way!)
2) Shake well before consuming.
3) Enjoy 1-2 ounces whenever you see fit.
Never stress about eating those room-temperature peas and carrots you keep playing with on your plate again.
Enjoy your fruits & vegetables with Ningxia Red.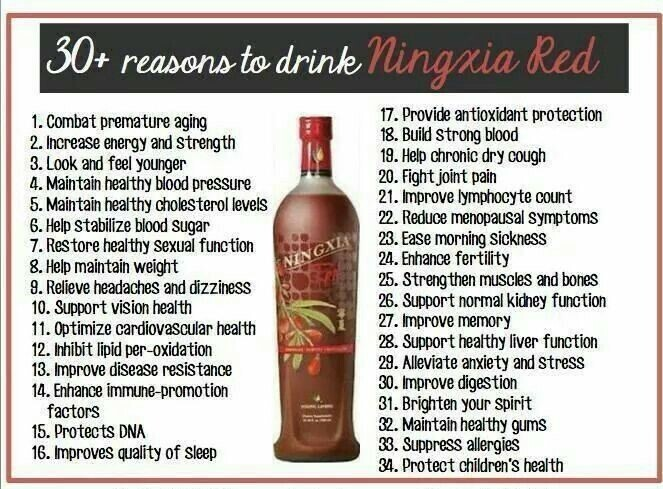 Want some guidance for getting exactly what would be best for your body and lifestyle? These aren't always a one-size-fits-all solution. I love helping others problem solve and get exactly what's right for them. Reply and I can help you get the best bang for your buck as far as these products go, I'm all about saving money and serving people on their journey to natural wellness. And join an amazing community of like-minded people doing the same!