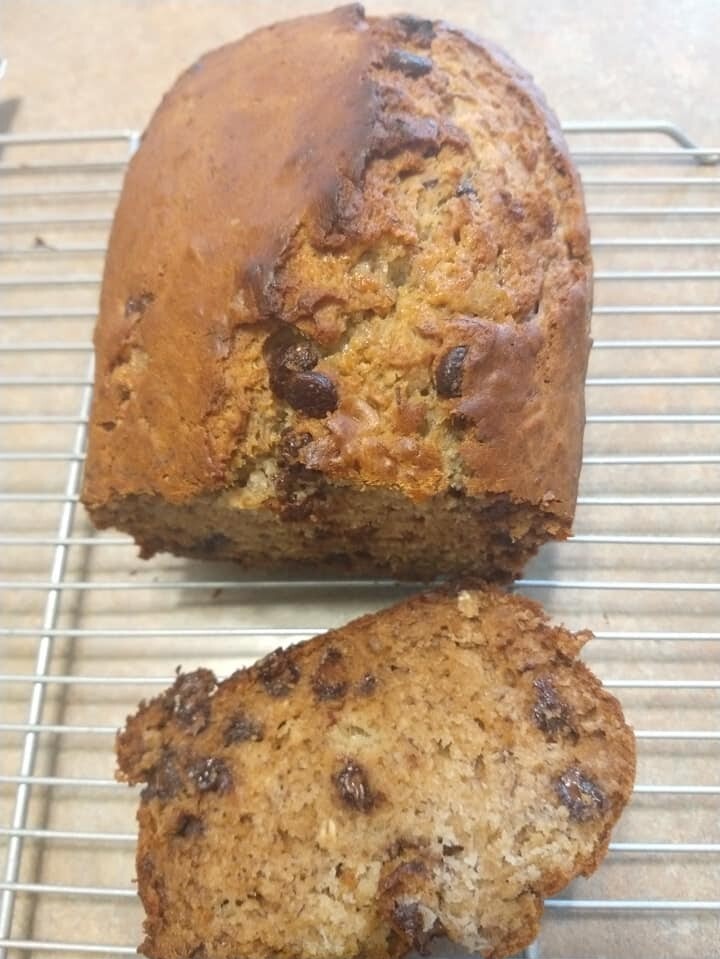 I LOVE banana bread -- homemade is even better! It's the best when it's warm, fresh out of the oven. Yummmmm....
Ingredients:
1/2 c. melted coconut oil or extra-virgin olive oil




1/2 c. honey or maple syrup or agave syrup




2 eggs (preferably local and fresh)




1 c. mashed ripe bananas (about 2 large bananas) -- I freeze my almost mushy bananas




and just thaw it before throwing it in the recipe. Works great!




1/4 c. milk of choice or water




1 teaspoon baking soda




1 teaspoon organic vanilla extract




1/2 teaspoon himalayan sea salt




1-2 drops cinnamon bark essential oil (only pure ones, especially for cooking!)




1 & 3/4 c. unbleached, unenriched whole wheat flour or Einkorn (an ancient grain I wrote about

here

)





Optional: 1/2 c. mix-ins like chopped nuts, chocolate chips (

my favorites

),


chopped dried fruit, fresh banana slices, etc...
Instructions:
Preheat oven to 325 degrees Fahrenheit (165 degrees Celsius) and grease 9x5 inch loaf pan

In a large bowl, beat the oil & honey together with a whisk. Add the eggs and beat well, then whisk in the mashed bananas and milk.

Add the baking soda, vanilla, salt, and cinnamon, and whisk to blend. Lastly, switch to a big spoon and stir in flour, just until combined. Some lumps are okay! Gently fold in mix-ins as desired now.

Pour batter into a greased loaf pan (I grease with this

spray cooking coconut oil

).

Bake for 55-60 minutes (less without mix-ins, more with mix-ins is my experience). Let the bread cool in the loaf pan for 10 minutes, then transfer to a wire rack to cool for 20 minutes before slicing.

Then enjoy! Yummm. :)


It is super important to know that not all essential oils are created equal.
You can't just go out to a big box store (or anywhere online) and trust that you're getting the good stuff, especially when cooking. Lucky for you, I've got a source I trust – want to know more?




I'd be happy to point you in the right direction.