Enneagram Type 4 wing 3
(graphic credit to @justmyenneatype)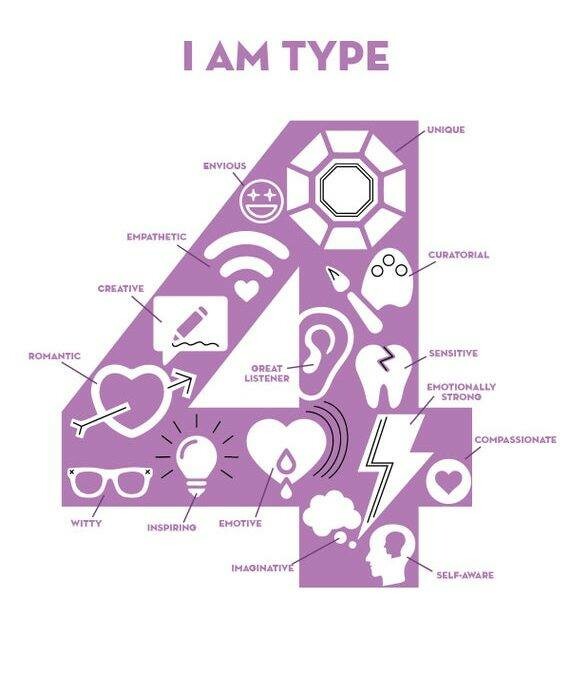 I never would have thought a few years ago that I would resonate so much with type 4. As I learn more about each type, I think, 'How am I a 4? Really? 4s are SO emotive.'
I grew up thinking that emotions were too big and too much for me and for others. Somehow I got the message that if I felt sad or frustrated or extremely passionate, that wasn't necessarily a good thing. My big feelings often turned people off. I often felt like I came across as "too much" to other people. So I shut them down (at least the ones I deemed unhelpful by others' standards), and I toned down the big emotions that were more "acceptable."
I'm learning now, that's really not helpful.
If someone doesn't like me for who I really am... then why am I trying to change to fit their ever-changing expectation of who I'm supposed to be?
How does that help the people I desire to serve well?
What does that show children -- that we shouldn't be who God has made us to be? That God made us somehow "wrong" and we have to change to fit others' molded expectations? That depending who we are around we ourselves have to change?
How does that give me the energy and drive to do my jobs well?
I am learning to embrace who God has truly made me to be, to serve others from who I am at my core, to share my story with others in hopes that those who need it will hear it, to be God's light to others by being who I truly am, not a facade of someone I think I'm supposed to be.
I am embracing and leaning into my type 4-ness, big-imagination tendencies, my feelings and ability to empathize, my ability to relate and cheer someone on through something I've already been through... and learning to harness this for good and growth rather than use my big imagination to worry.
The people who need to hear
my story
will hear it and feel connected and loved and served... exactly my desire.

And the people who don't? Oh well! Maybe it will mean a less close relationship or distancing of sorts. Maybe it will change nothing and we'll still be good friends! Maybe it will improve some relationships! But are any of those really truly bad things? If someone cannot accept me for who I actually am -- bumps and bruises, successes and failures, feelings and big thoughts and dreams, growth and mistakes, desires to change or stay the same and all -- how close are they REALLY? How much am I really caring for others if I'm not fully myself?
Just some thoughts. Love you guys! REALLY. I mean that.